Blog
Introduction of ER collet chuck holder
By CHUMPOWER 2017/12/25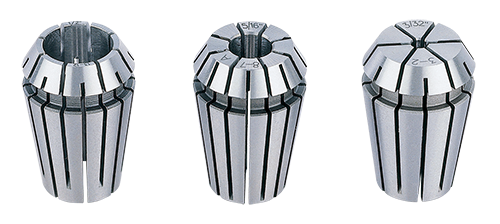 ER collet chuck holder is one of the main parts used to clamp cutter onto tool holder by nut. ER collet chuck holder follows DIN6499, which is equivalent to ISO15488 and called the ER series. These ER collet chuck holder are widely applied in cutter/workpiece-holding system, which combines the holder, nut and ER collet.
The clamping end of cutter-holder has an 8-degree inner taper hole used to connect the ER collet; and an outer thread section to connect ER nut. User can hold cutters with different holder diameter by changing to the respective ER collet chuck holder.
CHUMPOWER ER collet chuck meets the top standard in material selection, surface preparation or roundness/concentricity inspection; making the assembly precision of chuck-clamp cutter-holder and nut reaches the ultimate that earns high reputation hereof; CHUMPOWER is your best choice.
參考資料:
http://www.yamaken.com.tw/category-ER筒夾刀桿-003.html
http://www.yamaken.com.tw/category-筒夾-004.html
CHUMPOWER machinery Corp. possesses the copyright of this article. It is not allowed for any form of reprinting or distribution without the authorization and indication of source.Wereserve the right to claim for its legal right. Contact us if you have any questions or intents to reprint this article. Marketing Department: hanna@chumpower.com
Tweet