Blog
Introduction of Spray Nozzle Series
By CHUMPOWER 2018/02/05
When machine tool is performing metal cutting operation, it will generate high temperature; if tool's cutting angle and condition is correct, heat will be removed from the cutting chips; moreover, it can use cutting coolant to reduce the temperature. When making metal cutting operation, many sizes and types of cutting tools will be used, which needs to frequently adjust the coolant flow to the most fitted position.
In CNC lathes, every cutting tool has its own fixed coolant-output point; the coolant-spray location only needs to be adjusted once; and it won't move away after tool-change. CNC milling machine is somehow special; since the coolant-output point locates beside the spindle, it needs to be adjusted per different cutting tool lengths;
now, the CHUMPOWER Spray Nozzle Series becomes the convenient part during metal cutting operation; except that the coolant flow direction can be adjusted as wish, the spraying direction of nozzle can be at any location, more accurately aim at the machining location.
CHUMPOWER Spray Nozzles Series are categorized to the press fit type spray nozzles, thread mount type spray nozzles, leak lock type spray nozzles and plastic type spray nozzles etc.
In ordinary usage, they can work with the coolant hydraulic pressure (low, medium and high); flow arte won't reduce even at the maximum inclined angle; very suitable for the cutting operation of CNC machine center, CNC lathes, CNC milling machine and grinding machine; able to elevate the machining efficiency and precision and extend cutting tool's lifetime.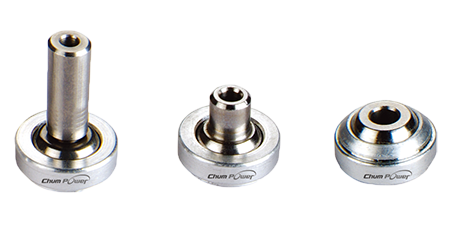 The press fit type spray nozzles use tight-fit assembling, insert nozzle at axle coolant-outlet point; the adjustable spray-angle is within 23~29 degree.
Thread Mount Type Spray Nozzles
If axle coolant-outlet point is threaded, the thread mount type of nozzles can be used; the adjustable spray-angle is ±35 degree.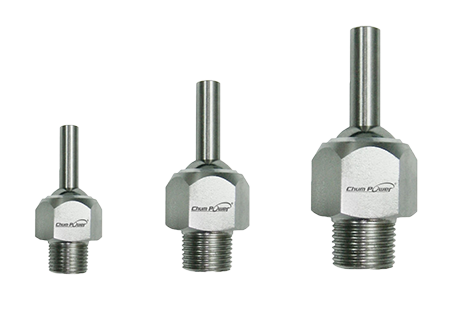 Due to internal special design, the leak lock type spray nozzles can stop the coolant supply immediately and without leaking problem; coolant output won't be delay. The installing and angle-adjusting issues are same to the thread mount type spray nozzles.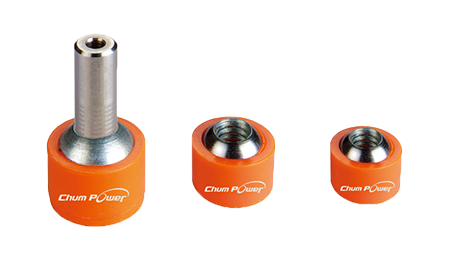 Casing of plastic spray nozzles is integrated to single plastic one; the adjustable spray-angle range is larger than the press-fit one. The installing issue is same to the press fit type spray nozzles.
CHUMPOWER machinery Corp. possesses the copyright of this article. It is not allowed for any form of reprinting or distribution without the authorization and indication of source.Wereserve the right to claim for its legal right. Contact us if you have any questions or intents to reprint this article. Marketing Department: hanna@chumpower.com
Tweet