Blog
Introduction of Hex Key Drill Chuck
By CHUMPOWER 2017/11/17
The Hex Key Drill Chuck has high precision and strong clamping force; they are applied in high, medium and low machining speed. The Hex Key Drill Chuck can two-way clamp cutter in machining, applied in both positive and reverse machining procedures, solve the cutter-loose problem due to sudden direction-change or instantaneous halt.
As compared with the ordinary chuck, the clamping force of this Hex Key Drill Chuck is 1.5-2 times higher than the ordinary one; able to satisfy the working requirements in drilling and tapping; operated by turning a hexagonal wrench, easy to operate with.
CHUMPOWER Hex Key Drill Chucks and Tool Holder conform to with international standards such as JIS, DIN, ANSI, ISO, MT and D, VDI ...; and can be used with tools such as drills, reamers, milling cutters, turning tools and tapping tools; fast cutter-change.
The "titanium-coated claw" design can effectively elevate at least 15% tool operating lifetime. Hex Key Drill Chuck is designed in Morse-taper, B Series and JT bore, able to associate with any tool holder; this product is widely sold in Europe and Asia.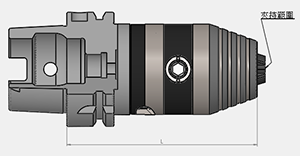 Specification of Hex Key Drill Chuck arbor: arbor interface -GHK#-length (L)
GHK8S Clamping range 0.3~8mm (1/64"~5/16")
GHK13S Clamping range 0.3~13mm(1/64"~1/2")
GHK16S Clamping range 1.5~16mm(1/64"~5/8")
Source: 精密傳動實驗室
CHUMPOWER machinery Corp. possesses the copyright of this article. It is not allowed for any form of reprinting or distribution without the authorization and indication of source.Wereserve the right to claim for its legal right. Contact us if you have any questions or intents to reprint this article. Marketing Department: hanna@chumpower.com
Tweet