Blog
Introduction of CAT and SK Tool Holder and their Differences
By CHUMPOWER 2017/09/21
CAT Tool Holder is developed by the US Caterpillar Co.; it associates the conventional NT tool holder together with ATC cutting tools-change mechanism, and plus the pull-bar screw design to achieve the fast-cutting tool-change advantage; the feature is on the deep and shallow driving keyway pair with the same width on the thin flange mechanism; a round hole stands on the shallow keyway;
nowadays most designs change this round hole into the IC chip-hole; some of them are equipped with the chip-scan on NC machine to facilitate the data management of tool holder sand cutting tools.

ANSI B5.50 ( for short, CAT) is the standard US installing dimensions, similar to DIN 69871, and IS0 7388/1. Since it has one wedge in-short, therefore, the ANSI B5.50 shank cannot be installed on DIN 69871 and IS0 7388/1 machine, but DIN 69871 and IS0 7388/1 shankcan be installed on ANSI B5.50 machine.

CHUMPOWER CAT Tool Holder Series: CAT CHU CNC DRILL CHUCK, CAT ER COLLET CHUCK, CAT MILLING CHUCK, CAT SIDE LOCK END MILL HOLDER, CAT FACE MILL HOLDER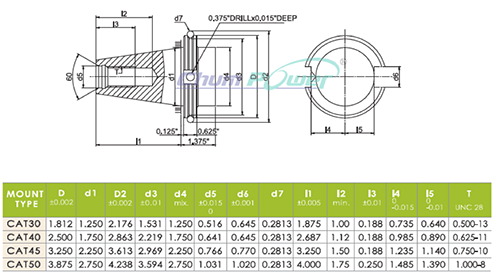 DIN SK Tool Holder (DIN69871 A AD B)(JIS B 6339 FORM IT)(ISO7388/2 FORM A AD AF)
The design of flange mechanism is similar to CAT, except it has an additional locating slot. CAT and SK tapers come from the different diameters at both ends of a cylinder, changed uniformly; the diameter-change per unit cylinder length is the taper value of 7/24 cone tool holder.
The tool holder precision is on the taper fitness; good fitness needs precise angle and excellent roundness; CHUMPOWER owns over 35 years manufacturing experience; the precise drill chunks have earned client's high reputation locally and overseas.
CHUMPOWER's standard taper gauge uses the taper ring works with red dye to examine and ensure that the taper-surface fitness status is below AT3; moreover, it is easy for assembly/disassembly, with precise positioning, keeps the machine parts pair centers aligned and clamped tight to transmit big torque/power, able to cooperate with CHUMPOWER precision chunks and EX-POWER universal chunks, etc.
Both the boring cutting tool and milling drill tools can select using the AD of coolant through the center or AD/B; at present, the common use is to exit water from flange-face to cool down cutting tool, which is the best choice in extending cutting tool's operating lifetime.
CHUMPOWER SK Tool Holder Series: SK ER COLLET CHUCK, SK CHU CNC DRILL CHUCK, SK Hex Key Drill Chuck, SK MILLING CHUCK, SK SIDE LOCK END MILL HOLDER, SK FACE MILL HOLDER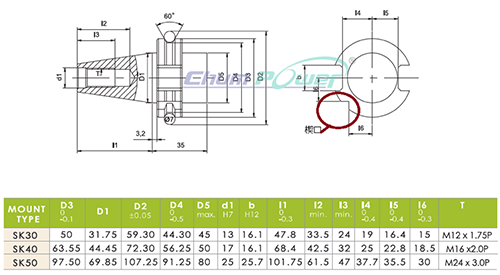 CHUMPOWER machinery Corp. possesses the copyright of this article. It is not allowed for any form of reprinting or distribution without the authorization and indication of source.Wereserve the right to claim for its legal right. Contact us if you have any questions or intents to reprint this article. Marketing Department: hanna@chumpower.com
Tweet