Blog
Tooling Chuck Measurements
By CHUMPOWER 2017/08/01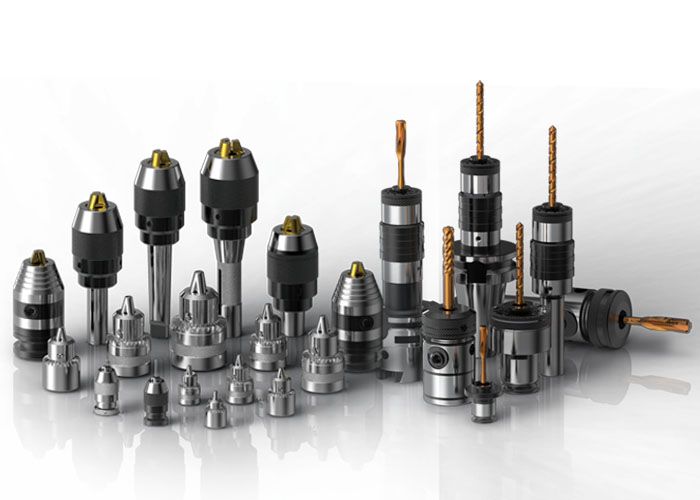 CHUMPOWER tooling chuck series features Keyless, Keytype, Hex Key Drill Chuck, EX-POWER Universal Chuck, and Tap Chuck. These tooling chucks are compatible with manual or automatic processing machines for applications in metal processing, woodworking, and medical uses.

To manufacture high quality and high precision tooling chucks, CHUMPOWER invests over tens of millions in machinery every year. Most processing equipment are dominated by international renowned brands, such as Hartford, +GF+(Georg Fischer), and this year, we have procured the DMG MORI 5-axis milling machine.

The precision machinery, worth ten million NTD, can be used in conjunction with turning and milling technology to process steep inclines, convex areas, inverted areas, or even deep cavity molds, and manufacture highly complex components, allowing greater precision in lesser time than previous machineries and enabling us to meet client customization demands that require diversity in small quantities.

CHUMPOWER exports 250 thousand sets of precision tooling chucks every year and our excellent quality is affirmed by 103 countries around the world. Other than our extensive experience in manufacturing and production.
" We have always believed that only through stringent inspections will we be able to create high quality and high precision tooling chucks. "

In addition to using internationally renowned brands such as HAIMER, ZIESS, and MITUTOYO, we will conduct inspections on the products from assembly, finished product warehousing, to pre-delivery. Regardless of component inspections prior to assembly, such as external diameter, internal diameter, and depth, or micrometer checker measurements after assembly, we will conduct detailed measurements to ensure product precision.
CHUMPOWER machinery Corp. possesses the copyright of this article. It is not allowed for any form of reprinting or distribution without the authorization and indication of source.Wereserve the right to claim for its legal right. Contact us if you have any questions or intents to reprint this article. Marketing Department: hanna@chumpower.com
Tweet