Blog
Introduction of special bottle
By CHUMPOWER 2017/06/10
The so-called household chemicals denote the chemical products that people are using in daily life. Like cosmetics, perfume, shampoo, body wash, hand cleanser, and cleaning solution...etc. Unlike ordinary bottles, those for household chemicals have higher requirements for appearance and quality of bottle.
Any scratch on bottle must be avoided in order to maintain surface brightness. Furthermore, most shapes of these bottles are flat, elliptic, grip (such as WINDEX), and curvy-waist design...etc. We call them special bottle.
When a bottle is flat shape, you must consider the dimensional proportion of bottle between maximum external diameter and shorter side to see whether it is too high or not. In case the proportion is less than 1.6 times, basically the PET blowing molding machine doesn't require to be added with side-heating function.
The side-heating function is primarily to assist material extension on shorter side of bottle preform. The external diameter may be pretty close to bottle mold. As long as bottle preform has any contact with bottle mold before getting cool, no further extension can be done.
Blow molding of PET is doable without assistance of side-heating. But the middle of finished bottle will generate a bar of material left so as to affect the transparency and quality of bottle.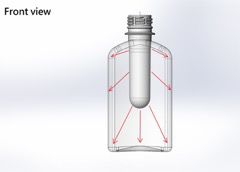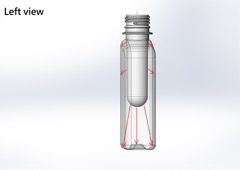 Special bottles are usually produced by one-stage blow molding machine. Preform injection and bottle blowing are done in one machine, as the neck is handled by the die throughout the entire process and blow molding to ensure the preforms do not come into contact with other objects during transportation, thus producing finished products with glossy, complete, and untarnished appearances.
The standard hot runner for CHUMPOWER SS10 is industry standard thermal gate type, however hot runner with valve gate type is also available for higher preform gate finishing and wider processing window. An independent blow molding system and a smart temperature control system to ensure the improved quality of the finished products. Regardless of medicine bottles, cosmetic bottles, perfume bottles, detergent bottles, baby bottles, or special design bottles, this machine can fulfill all your production needs.
In case a two-stage blow molding machine is utilized, the same bottle preform can be shared to produce special bottles in different shapes. A single-cavity or dual-cavity blow molding machine is recommended with side heating that will produce bottle of most stable quality.
Because of the fact that extension of raw material on shorter side must be reinforced, after side heating at last station the bottle preform shall not rotate due to inertia induced by transition of stations and change the interval between original bottle preform position and heater. Otherwise the significance of side heating will be in vain.
For prevention of scratch on bottle, use robot hand to fetch the bottle preform from injection molding before independent packaging with plastic bag manually. Take out bottle preform from plastic bag before process of blow molding. Raw material shall be injected into bottle preform manually.
After injected bottle is ready, independent packaging of bottle must be conducted manually. The quality of special bottle produced by Two-stage PET Blow Molding Machine of CHUMPOWER can still achieve One-stage productive quality as long as with appropriate coordination between bottle preform and bottle design.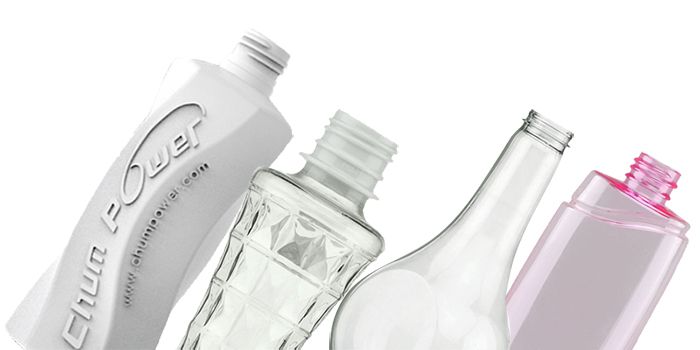 By means of rich experiences for more than 20 years and whole plant planning as well as whole-line accessory projects such as robot hand, conveyor...etc, CHUMPOWER can be the most professional counselor of yours.
For any demands, please contact us by calling +886-4-2338-8289 or via e-mailing contact@chumpower.com.
CHUMPOWER machinery Corp. possesses the copyright of this article. It is not allowed for any form of reprinting or distribution without the authorization and indication of source.Wereserve the right to claim for its legal right. Contact us if you have any questions or intents to reprint this article. Marketing Department: hanna@chumpower.com
Tweet