Home

News

Company News

PET Bottle Blowing Equipment, Stable Yield and High Yield
PET Bottle Blowing Equipment, Stable Yield and High Yield
2021 / 08 / 19
One of the leading brands of PET blow molding machines in Taiwan, and also a major manufacturer of PET blow molding equipment in the Asia-Pacific region - CHUMPOWER Industry and ITRI have joined hands to improve the production capacity of linear blow molding machines through mechanical design optimization, making CPSB-LSS8 single-cavity production capacity. From 2,250 BPH to 2,500 BPH, the total production capacity has been increased from 18,000 BPH to 20,000 BPH, and the performance has increased by 10%, providing global packaging water and beverage customers with higher capacity and more stable PET bottle-blowing equipment.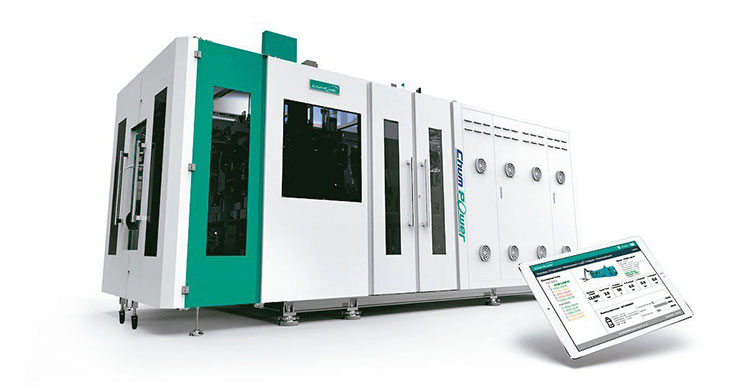 The CPSB-LSS8 blow molding machine produced by CHUMPOWER Industrial is famous all over the world.
The single-hole production capacity of CPSB-LSS8 has been increased from 2,250 BPH to 2,500 BPH, the total production capacity has been increased from 18,000 BPH to 20,000 BPH, and the performance has been improved by 10%. The point temperature detector collects the temperature of each preform after heating, through neural network modeling, and uses automatic compensation to actively adjust the heating power (optional), so that each preform can have the same temperature at the same detection point. The temperature of the machine will not be unstable due to the change in ambient temperature, which will affect the yield of the bottle. In addition, the real-time detection of the pressure value of each hole, ensures the consistency of the quality of the blowing bottle in each hole, so that the CPSB-LSS8 can The stability of each bottle can be maintained at any ambient temperature.
In addition, the BottleViewer intelligent bottle-blowing production system independently developed by CHUMPOWER won the honor of the Smart Machinery Award in 2018 TaipeiPlas. The clear Plant Dashboard allows customers to grasp the real-time production information of all CHUMBO blow molding machines in the factory on a computer browser or handheld device, including monitoring functions such as production process and machine status. The intelligent predictive maintenance IPM (Intelligent Predictive Maintenance) cooperating with National Cheng Kung University can grasp the life of the key components of the machine, alarm in advance before the failure occurs, and avoid downtime and additional losses caused by the failure.
CHUMPOWER provides four types of blow molding machines to meet the needs of various customers. The L series of linear blow molding machines can meet the needs of mass production of water and beverages, fast and stable production.
CHUMPOWER Industrial Telephone: +886-4-2338-8289.
Source: 經濟日報
---
CHUMPOWER MACHINERY CORP. has over 20 years of experience in the expertise of PET blow molding machine manufacturing apart from providing the appropriate blow molding machine for oil bottles, we also provide the best expertise and consultant on the design of handle oil bottles from preform/mold design, blow molding equipment, Whole Plant Planning Solutions. If you have any questions or would you like to request a quote, contact us today.